Sales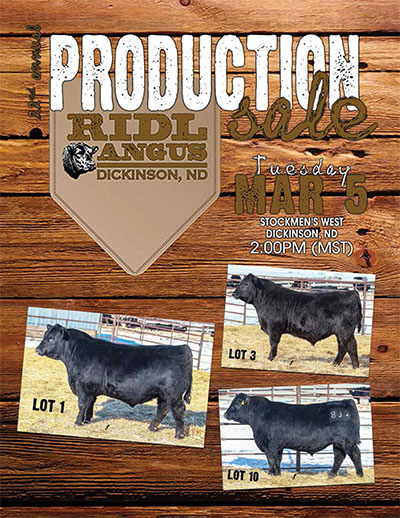 Ridl Angus Production Sale
March 5, 2019 • 2PM MDT
at Stockmen's West
Dickinson, ND
Selling 75 yearling Angus bulls.
bulls will pass a breeding soundness exam,
bulls will be freeze branded,
bulls will have DNA enhanced EPds and
we "Feed um till you need um" at no extra cost.
---
NDAA Bull Test
Monday April 22nd 2019 at Stockmen's Livestock in Dickinson ND • 1:00 PM MDST
Two consignments to this years sale is Lot 1 Ridl Appearance 803 AAA 19142028 and Lot 2 Ridl Roughrider 840 AAA 19142037.